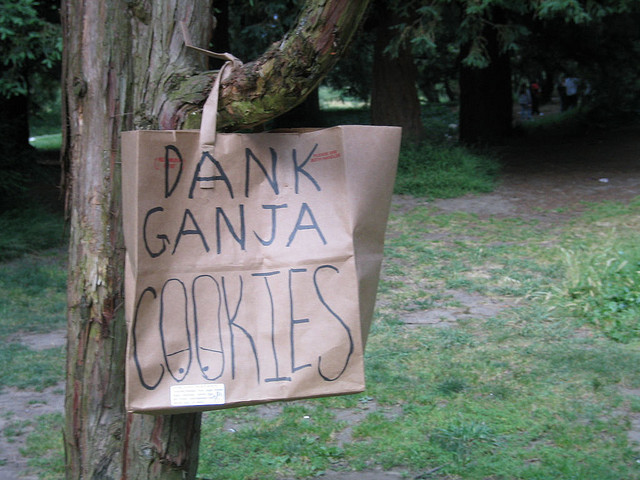 This recipe is one I use a lot when I want to give cookies out to friends.
The butter I use is made with leaves rather than bud, so if you are used to butter made with bud you may want to double up when you eat these.
Ingredients:
125 grams butter

100 grams soft dark brown sugar
5 tablespoons golden syrup
325 grams plain flour
1 teaspoon bicarbonate of soda
5 teaspoons ground ginger OR 4 teaspoons ground ginger and 1 teaspoon cinnamon
Directions:
Put the butter, sugar and golden syrup in a small saucepan over a low heat (I have an electric hob with 6 heat settings, I have it on number 2 to get the butter melted then turn it down to number 1).
Keep stirring until the sugar and golden syrup have combined with the butter to make an oily blackish brown liquid then turn off the heat.
Put all the dry ingredients into a mixing bowl then add the liquid and stir with a spoon to form a ball of greenish brownish cookie dough. You might need to knead it a little bit too just to make sure there aren't any areas of flour that haven't got the butter soaked in.
I make 12 cookies from this mixture, which will have roughly 10 grams of butter in each. They come out pretty big so you may have to cook then in 2 batches if you don't have a big enough oven shelf/baking sheet.
Whack some baking paper on a tray and divide the mixture up into however many balls you want, then press them down onto the baking tray til they are about 5mm thick.
I cook these on 170ºC in my electric top oven which is not fan assisted, for 10 mins, then put the tray somewhere cool for about 20 mins until they are cooled.
If you are going to use a fan oven, I would suggest 150ºC if it's a fairly new one or 160ºC if it's a few years old, for the same amount of time. Not sure how this translates to a gas oven, never got on very well with baking in my old gas oven.
They come out fairly soft, rather than crunchy, and the golden syrup seems to sink to the middle and bottom which makes them slightly chewy in the middle.   🙂
This recipe was submitted by one of our readers, Debbie. Image via airmoore of Flickr.